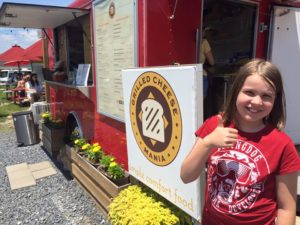 Our first stop heading south from Mom's driveway, was at Grilled Cheese Mania in Harrisonburg, VA. It was good, but not sure if it was worth all the hype. Regardless, we snarfed our gourmet grilled cheese or mac n' cheese down and continued to Floyd, VA.
Before heading to the RV park, we opted for a quick stop at a local winery. It was a pretty setting, apparently "one of the top restaurant views in America". The wine was definitely on the sweeter side, which my palate has definitely graduated from a bit. Joel… not so much. Anyhow, the best part about the winery was that you could bring your dogs (and kids) into the tasting room.
So, while we were bellied up to the tasting bar with other patrons, there was a whole other social exchange going on at our feet among the canine visitors.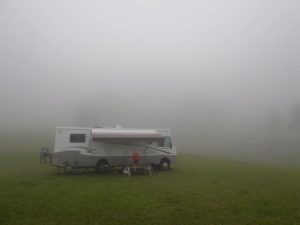 Despite the sweetness, we were still persuaded to grab a couple of wines before leaving and jumping on the Blue Ridge Parkway to our campground, Chantilly Farms.
We chose a site that was actually a tent site but allowed us to be on a hill away from the majority of other campers. They actually have a pretty nice stage setup for hosting concerts. While there wasn't any performances while we were there, we did manage to get up on the stage for a rousing family game of corn hole.
We ended the evening with a visit from our next campsite neighbor. We noticed her biking into camp and setting up her tent. Hooper, our yellow lab, greeted her at the end of his and Joel's run. Joel then proceeded to invite her over to visit later that evening.
I may have been a little intimidated of her at first… I mean she's Canadian and pretty kick-ass, biking miles and miles all by herself. She was a direct threat to my reputation of being known as "Sporty Liz", or at least the one I was working hard on creating.
But I really did enjoy learning about her adventures and was happy the girls were there to hear them too. During our visit with her, a serious rainstorm came without much warning. As she darted back to her tent, Joel and I were left to wonder, from the comfort of our dry lodgings, if we shouldn't have offered a place for to her weather the storm. By the time we ventured outside in the morning, she was gone. So, at least there wasn't any awkward conversation exchange about how each other slept.
That morning, after receiving confirmation from the nice older gentleman at the RV park office, we took off on our bikes for town on a very narrow road that proved to be quite hilly. He probably didn't realize that when describing the road as "fairly flat", we were coming from the extremely flat roads of Eastern Shore Maryland. While two of us had to turn back, we all ended up meeting in town for lunch and some bluegrass at the general store.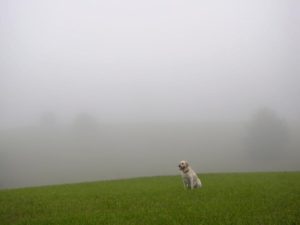 That evening, the fog really set in at our campsite and Joel had ventured outside with Hooper to grab some pics.
What the girls and I heard next, can only be described as the wee voice of a scared child trying to calmly talk his dog into backing away from the black and white striped creature he had come face to face with.
Somehow, we dodged a bullet with that one as Hooper listened and we did not have to suffer the consequences of being in an small space with a skunked dog.
https://findingfun.us/wp-content/uploads/2016/08/13599916_611120182423625_6075617734785894617_n.jpg
720
960
Lizzy
https://findingfun.us/wp-content/uploads/2016/07/findingfun.png
Lizzy
2016-07-03 00:37:30
2016-08-24 20:49:55
Mile 1167: Chantilly Farms in Floyd, Virginia